National Dengue Day, 2018 was observed at UHU&TC, Chetla. All the patients and attendants attending OPD were gathered at MCH OPD & School Health OPD Premises on 16th May, 2018 from 10.30 am – 12 noon. The IEC was given in the form of "Lecture" & "Poster".
The following points were highlighted during awareness promotion session:
Introduction: Importance of observance of National Dengue Day.
Dengue fever and its symptoms.
Transmission of Dengue and characteristics of Aedes mosquitoes.
Breeding sites of Aedes mosquitoes.
Cleaning the water storing sites periodically inside and outside houses.
Mosquito bite protection at individual level.
Role of community in prevention and control of Dengue.
Interactive session with Stakeholders.
Dengue Awareness Programme at School Health OPD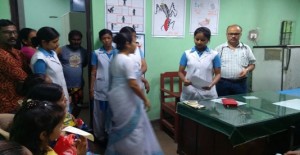 Dengue Awareness Programme at MCH OPD