Sanitary Engineering
Introduction
The main objective of the department is to create a healthy community through the ways and means to safeguard the environment and protection of the natural ecosystem. The dept. had been involved in various ways with different govt. organisation like PHED, KMDA, KMW&SA, in West Bengal and PHEDs of different Eastern & north Eastern states and also the NGOs in solving the environmental health problems. The dept. had prepared the state of the art report on the arsenic contamination of ground water in west Bengal. It had also organised awareness and motivation campaigns and worked on community based projects to mitigate Arsenic pollution in West Bengal.
Teaching Activities
The department has started a Course on Sanitary Health Inspector, a skill development course of 10 months' duration, under Prime Minister Skill Development Program with an intake capacity of 20 students per batch. The first batch of this course has commenced from March 2018.Six students were successfully completed the course and awarded certificate of completion of training course. In the session 2019-2020 Two students are continuing the training course and likely to be completed by March 2020. The teaching is done by faculty of this institute as well as guest faculty of repute in the field of Public Health Engineering. Apart from teaching in this Institute, educational visits have been conducted for students in various institutions like Dept. of Bio Medical Waste management, Central Calcutta Polytechnique, Bio Medical Waste Management plant of Medicare Bio medical Waste Management agency located at Belgachhia , Howrah, Solid Waste management Plant at Purba Midnapore, Vermi-composting management site in Rural villages of Midnapore, Bio- Gas plant in village house hold level at Midnapore, Activities on rural sanitation done by Ramkrishna Mission Loksiksha Parisad, Different types of Latrines, Non-conventional tube wells at Singur of Hooghly District Public Health Engineering plant for water treatment and Hospital Sanitation at Hospital at Kolkata etc.
Department contributes to different courses run by the other departments of the Institute, e.g., MD(CM), MPH (Epidemiology), DPHM, DPH, DHPE, DHS, Dip. Diet & M.Sc.(AN).
Field Programmes
The Department has conducted many visits for practical demonstration purpose of the Sanitary Health Inspector students. The students of the Core Course (MD, DPH,MPH, MVPH) has also joined the Sanitary Health Inspector students in a few visits.
Swachh Bharat Mission Activities
This Department had conducted a seminar under Swachh Bharat Mission programme titled as "Water conservation & Rain Water Harvesting "on13.09.2019. This programme was facilitated by the teaching faculty of Jadavpur University and the participants were the staff, students and faculties of AIIH&PH, Kolkata.
Faculty
Dr. Sanjoy Kumar Sadhukhan
Professor & Head (Acting)
M.D.
E-mail: sdknsanjoy@gmail.com
Mobile No.:9836287874
Area of expertise: Epidemiology, Research methods, Programme Evaluation, Biostatistics.
Dr. Subodh Ranjan Karmakar,
Director Professor
Advisor (Public Health) SAG
MBBS, DPH,MD
E-mail: dr_karmakar@yahoo.co.in
Mobile No.:9433057815
Area of expertise: Immunization and MCH, Health Promotion & Education , School Health & Public Health
Dr. Ketaki Sharma
MBBS, DMCW
SMO
E-mail: dr.ketakisharma@yahoo.in
Mobile No.:9433937875
Area of expertise: Public health.
There are 11 faculty positions sanctioned (Prof. – 2, Associate Professor – 2, Assistant Professor – 4, ARO Biologist – 1, Demonstrator – 2) but all posts are lying vacant at present.
Other Members
| Designation | Number | Activities performed |
| --- | --- | --- |
| Research Assistant | 1 | Laboratory analysis work |
| Chemist | 1 | Laboratory analysis work |
| Technician | 3 | Laboratory analysis work |
| Draftsman | 2 | Office work |
| Lab. Attendant (MTS) | 2 | Support Service |
| MTS | 1 | Support Service |
Publications:
Chandra R, Dutta A, Manna AK, Rout K, Mondal J & Patra GK. Halide bridged novel ternary copper (I) complexes with bis imino-quinolinyl ligand and triphenylphosphine: Synthesis, structure, luminescence, electrochemistry and theoretical studies. Inorganic Chemical Actra, 496 (July 2019), p 1-10.
Other Special Activities
The Dept. of Sanitary Engineering provides services of water analysis to various Govt. organisation and NGOs.

In this year, 883 parameters in 123 samples of water has been analysed in the laboratory till date.

The department is also analysing frequently the potable water samples from different sources of the Institute, e. g. Bidhannagar campus, RHU&TC, Singur, UHU&TC, Chetla and main campus at C.R. Avenue.

Dr Ketaki Sharma, SMO, is working as DDO of Bidhan Nagar Campus.

Amal Dutta (Chemist) taken Guest lectures on 'Parameters of Drinking Water' at dept. of Microbiology (BN Campus) and UHU&TC, (Chetla).
Conference
Dr Subodh Ranjan Karmakar, Advisor (Public Health) attended 46thAnnual National Conference of Indian Association of Preventive and Social Medicine (IAPSMCON) at Indira Gandhi Medical College Shimla from 7th to 10TH March 2019
Some Photographs of Our Activities
: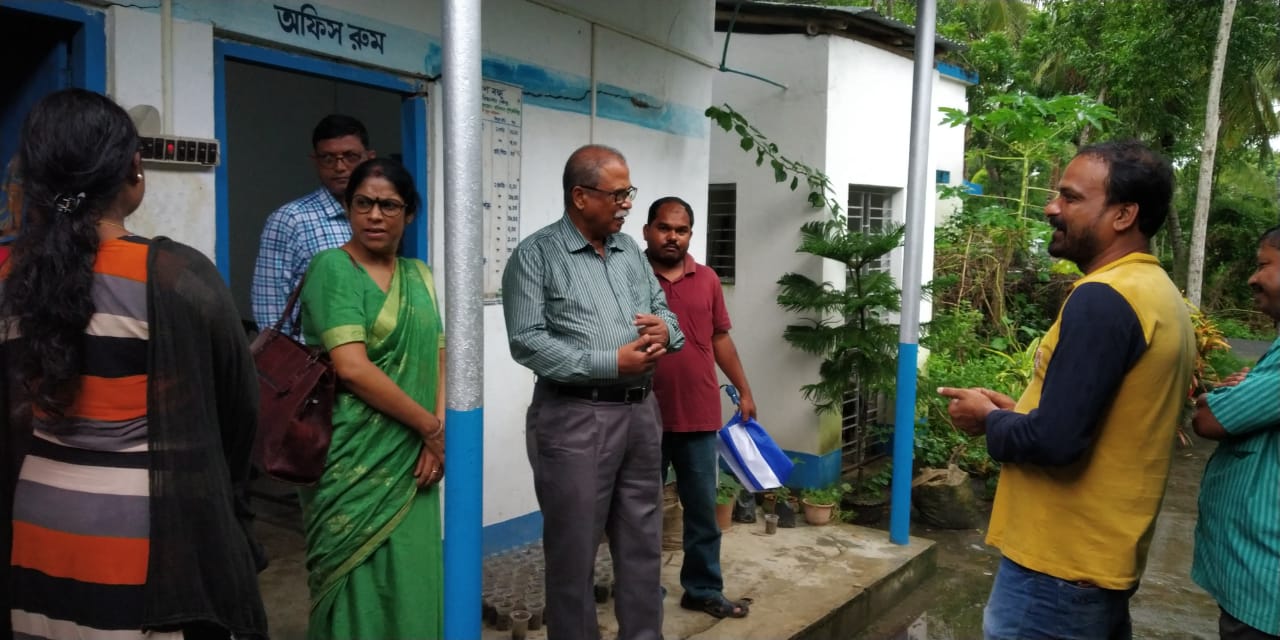 Field Activities of the students of SHI course at RHU&TC, Singur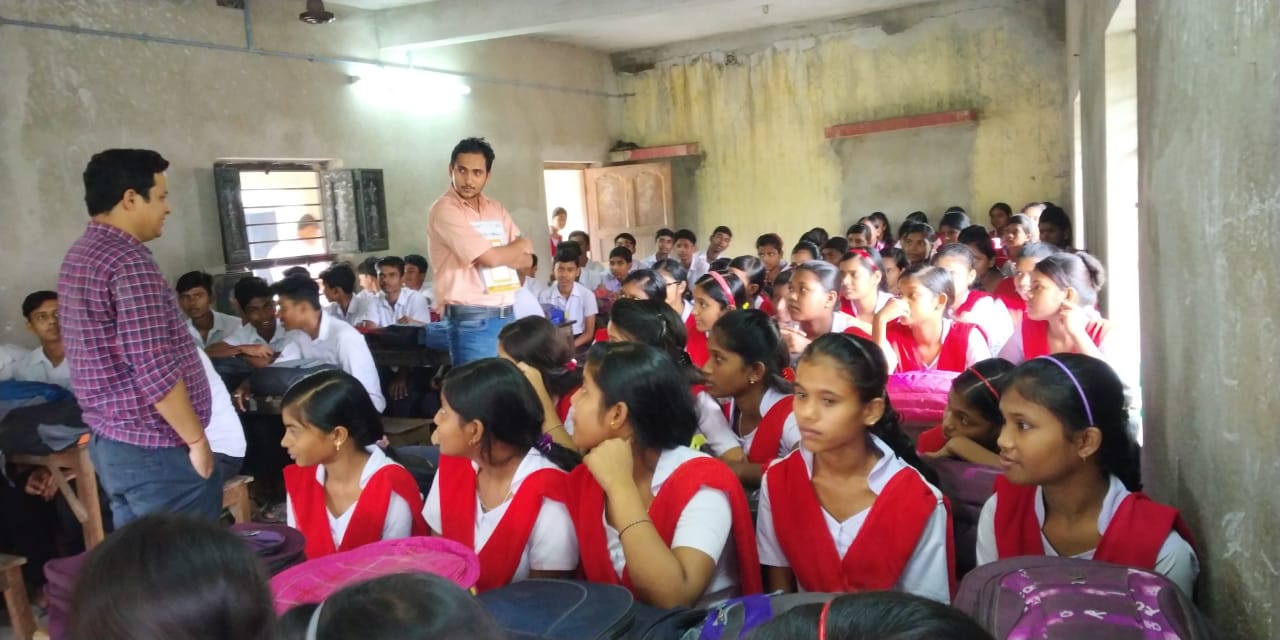 KAP on WASH Program in school at Singur