Maternal & Child Health
Introduction
All India Institute of Hygiene & Public Health, Kolkata was established in 1932 with four sections, namely – Public Health Administration, Malariology & Rural Hygiene, Vital statistics & Epidemiology and Biochemistry & Nutrition. Soon after the inception of the institute – the Countess of Dufferin Fund, which had been working for the development of medical care of women & children, felt the need of developing and expanding the preventive & promotive aspects in the field of Public Health and accordingly the fifth section of the Institute in the name of "Maternal & Child Health" was created.
The Department of Maternal and Child Health is concerned with Teaching, Training, and Research and for delivery of Services for Mothers, Children and Adolescents within the framework of general and reproductive health services. Emphasis is given on teaching & training for the delivery of health services through integration of preventive, promotive, clinical and managerial skills. Obstetric and Paediatric wards and Adolescent health clinic of the neighbouring Medical Colleges and the Urban and the Rural Health Centres of AIIH&PH, Kolkata are extensively used for the practical / field-based hands-on-training in reproductive and child health, adolescent health and family welfare. The research activities of the department primarily focused on reproductive health, safe motherhood, child growth and development & health problems, adolescent health and various aspects of family welfare.
In 1933, Diploma in Maternity and Child Welfare (DMCW) – postgraduate diploma course was started under "Faculty of Tropical Medicine and Hygiene" to equip women doctors in administrative and other service positions. Later on, in the year 1946 – 47, this post-graduate course was affiliated to University of Calcutta and it was made open to both male & female medical graduates. Subsequently the DMCW Course which was recognized by MCI and was affiliated to West Bengal University of Health Sciences (WBUHS). Since inception, a total of 990 doctors have been trained in DMCW Course. The DMCW course has now been discontinued and a new Post Graduate Masters course in the name of M.Sc. Public Health (MCH) has been started for medical and nursing students from the year 2022.
Teaching Activities
Regular Courses Conducted:
The department started a new full time regular post graduate master's course in the name of M.Sc. in Public Health (MCH) –
Name of the Course :          M. Sc. in Public Health (MCH)
Short Introduction :          M. Sc. in Public Health (MCH) is a two year Post Graduate Course affiliated to West Bengal University of Health Sciences. This course is open to Medical graduates (MBBS & AYUSH) from any recognized college / university of India.  It is also open to B.Sc. Nursing personnel from any recognized institutions of India.
Affiliation :        Course is affiliated to West Bengal University of Health Sciences (WBUHS).
Duration :        2 years full time course.
Method of Selection :          Admission test conducted by WBUHS.
Stipend :           Non-sponsored candidates are eligible for Rs.7500/- (Rupees Seven Thousand five hundred only) per month.
Regular Activities
Teaching, training and research on MCH/RCH/Family Welfare/related issues imparted to all categories of public health students of all courses of AIIH&PH.
Providing supervision and guidance in curricular research studies conducted by students of different post graduate courses.
Supervising/guiding students for the urban and rural field programs like "Family care program" at UHU&TC, Chetla and "Community Diagnosis Program" at RHUTC, Singur.
Participating in conducting examinations of different PG courses.
Conducting Adolescent Health Clinic (fortnightly) at UHU & TC, Chetla.
The faculty members of this Deptt. are involved in a number of different major administrative committees of this Institute.
Faculty
Dr. A. K. Mallick
Director-Professor & HOD
M.B.B.S., M.D.(SPM)
E-mail: ashokmallick62@yahoo.co.in
Mobile No.:9433464500
Area of expertise: Health System Management and leadership, HRD, VBDs, Health Promotion & Education, Health education & BCC, Adolescent health & Demography.
Dr. Madhumita Bhattacharya
CMO (SAG) & Equated Professor
MBBS, DMCW, DCH, MD (Pediatrics)
E-mail: madhumita57@yahoo.co.in
Mobile No.:85840 57420
Area of expertise: Community Paediatrics, Child Health & Nutrition, Neonatal Care & Resuscitation, Adolescent Health, School Health.
Other Members
| Designation | Number | Activities performed |
| --- | --- | --- |
| Stenographer | 1 | Secretarial Assistance |
| MTS | 1 | Support Service |
Achievement
Ministry of Health & Family Welfare, GOI declared department of Maternal & Child Health of A.I.I.H.&P.H. , Kolkata as training hub for MAA (Mother's Absolute Affection) for north-eastern states and union territories.
As a national trainer of MAA (mother's absolute affection) the departmental faculty trained different types of health care providers in different period:
Training of middle level trainers of North-Eastern States and Union Territories on MAA Programme held at A.I.I.H. & P.H., Kolkata from 23.11.2022 to 30.11.2022.
Training of middle level trainers of North-Eastern States and Union Territories on MAA Programme held at A.I.I.H. & P.H., Kolkata from 27.01.2023 to 03.02.2023.
Photograph of MAA Training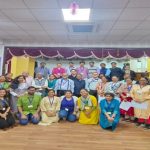 Group photo of the Participants from Union Territories, MD students and Faculties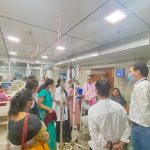 Photograph of clinical training session