Microbiology
Introduction
The Department of Microbiology of All India Institute of Hygiene & Public Health, Kolkata is involved in the study of fundamental Microbiological problems relating to infectious diseases and with hygiene and public health.
It is probably the First Institute/College having a separate independent Microbiology Section/department in India.  It was established in the year 1932 during British Era. Professor K.V. Krishnan was the First Head of the Department of Microbiology.
The department is involved in teaching and training of the subject Microbiology to mainly all courses governed by this Institute. Our department runs a 2-year Post graduate course inMaster of Veterinary Public Health (MVPH) under the University of Calcutta. The department is involved in research activities including the supervision of dissertation work of the P.G. students of the different departments. Routine culture and susceptibility testing from clinical samples and the non-clinical samples is carried out routinely. The department is a recognized centre for testing the bacteriological quality of drinking water.  The department is also a recognized centre for "Yellow Fever Vaccination" to the travellers visiting to Yellow Fever disease affected countries.
Teaching Activities



Regular Courses Conducted:



The department runs a PG course namely Master of Veterinary Public Health (MVPH) under the University of Calcutta.



Short Courses / Trainings Conducted:



The department had participated in different Training Programme conducted by other departments of the Institute.
Regular Activities
Involved in taking the theoretical classes of all the courses governed by the Institute. The department is also involved in taking practical classes of the different courses allotted to the department.
Department runs an authorized Yellow fever vaccination centre and this year Yellow fever vaccine has been administered to 1934 international travellers visiting Yellow fever disease effected countries in Africa and South America.
Department is having authorized water bacteriology testing laboratory for potable water testing. This year department tested 280 water samples by the Water Bacteriology Section of the Department.
Media Room prepares thousands of different categories of culture mediawhich is utilized during the period of processing clinical and non clinical samples received in the Laboratories. The Washing Room and Sterilization Room are intimately associated with these media preparation process.
The department is routinely involved in testing the culture and sensitivity of clinical samples and non clinical samples for the research and teaching purposes. More than 700 samples were tested in last 12 months.
Faculty
Dr. Atul Raj
Associate Professor
Head of the Department
MBBS, MD
E-mail:
dratul09@gmail.com
Mobile No.:9163227575 / 033-23353232
Area of expertise: Bacteriology
Dr. AmitBanik
Assistant Professor
MBBS, MD, DNB

E-mail:dramitbanik@gmail.com
Mobile No.:9402195476 / 033 – 23359858
Area of expertise: Bacteriology

Dr. Sayan Bhattacharyya
Assistant Professor
MBBS, MD

E-mail:sayanda7@outlook.com
Mobile No.:9432488669
Area of expertise: Bacteriology and Mycology
Conference/Workshop/Training attended
Dr.SayanBhattacharyya, Assistant Professor, Microbiology attended MICROCON 2018 (42nd Annual Conference of the Indian Association of Medical Microbiologists) in NIMHANS, Bengaluru from 30th November to 2nd December 2018. He presented following two e-Posters inthisconference:

Occurrence of coliforms other than Escherichia coli and other fermenters in drinking water and correlation with pH of water.

Evaluation of some new tests for identification of non-fermenting Gram negative.

Presented poster in STMIDI Tropicon, Grand Hotel Kolkata on 18th August 2019, on topic "Study of pattern and antibiogram of bacterial flora of hands of Doctors, students and other staff in a Public health institute".
Presented two posters in CIDSCON 2019 (Annual Conference of Clinical Infectious Disease Society) from 21st -23rd August at Kochi on following topics:

"Study of Pathogens and Their Antibiogram in Asymptomatic Bacteriuria in Pregnant Females".

"Rapid Detection of Beta Lactamases of Pathogenic Bacteria by a Novel and Simple Method".

Dr. Atul Raj attended the 12 Days Training of Trainers (ToT) Course on "District Preparedness for Public Health Emergencies Management" for Senior Faculties of Partner Institutions from 10th to 22nd June, 2019 at NIHFW, New Delhi.
Research activities:
Isolation of Cryptococcus and other opportunistic fungi in poultry and pigeon faeces.

Study of prevalence & antibiotic resistance of isolates recovered from Raw and packed milk in Kolkata.

Molecular profiling of mycobacterial isolates from North East India.

Study on phenotypic and genotypic characteristics and Transmission block of Salmonella enteritidis.

Antibacterial property of Psidium guajava and Aegle marmelos on bacteria isolated from poultry excreta.

Profile of antibiotic resistance and prevalence of "Tet" gene responsible for Tetracycline resistance in Escherichia coli isolated from Equine faeces.
Short studies:
KAP on Leptospirosis in sheep and goats in Singur, West Bengal.

Knowledge and Practice gap of Healthcare Providers towards Zoonotic disease surveillance.

A sociodemographic study on Knowledge, Awareness and practices on clean milk Production among livestock owners in Singur, West Bengal.

A sociodemographic study on extent of knowledge, awareness,Attitude and risks of zoonotic diseases among livestock owners in Singur, West Bengal.

KAP of Bovine tuberculosis and associated risk factors in the Population of our rural block area of Singur, Hooghly.

KAP on Rabies in rural population of Singur, West Bengal.

Study of bacterial colonisation of raw egg shells.
Publications:
Sayan Bhattacharyya , Amit Banik , Atul Raj , Nupur Bose , Ruma Ray , Utpal Kumar Chattopadhyay. Knowledge Level and Other Attributes of Clients Availing Yellow Fever Vaccine for International Journey: A Study. Int J Med Res Prof.2019 July; 5(4); 31-33.

Charupriya Churamani, Atul Raj, Sayan Bhattacharyya , Amit Banik. Community Knowledge, Attitudes and Practices on Bovine Tuberculosis and Associated Risk Factors in the Population of a Rural Block Area of Singur, Hooghly, West Bengal. Sch J App Med Sci, July, 2019; 7(7): 2272-2278.

Chendu Bharat Prasad. M, Lakshmi Vineesha. , Atul Raj. , Sayan Bhattacharya. , Amit Banik. A Socio-Demographic Study on Extent of Knowledge, Awareness, Attitude and Risks of Zoonotic Diseases among Livestock Owners in Singur, West Bengal. East African Scholars J Med Sci; Vol-2, Iss- 3 (March, 2019): 154-158.
Field Activities/Programme
Participated in the Community Diagnosis Programme at RHU&TC, Singur.

Entomological survey done for the Core course students at RHU&TC, Singur and demonstrated the different methods of collection of medically important arthropods, their biological behaviour, Adult and larvae of mosquito collection, Spraying techniques, susceptibility testing, identification of different Medically important insects.
Swachchhata Initiatives:
Swachchhata Pakhwara was observed from 1st to 15th April 2019.
Guest Lectures:
Dr. Atul Raj was invited to deliver a guest lecture on "Yellow fever disease and its vaccine" at APHO, Kolkata to train the Doctors/ Nurse/DEO of North Bengal Medical College on 4th November 2019.
OtherActivities:
Vaccinated about 2000 persons in one year who were candidates of international travellers visiting Yellow fever disease affected countries in Africa and South America. This number is highest in history of this Institute, when vaccination is given once in a week.

Tested about 300 water samples and more than 700 clinical and non-clinical samples in a year mainly related with the Public Health.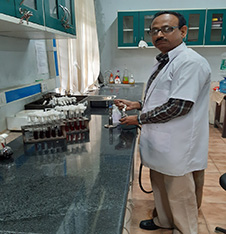 Water Testing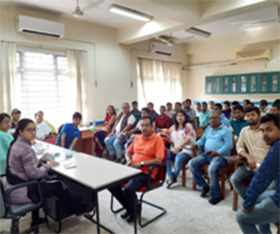 Yellow fever Vaccination